POWER TETRODE
Svetlana GU-84B New in Box

The GU-84B(GU84B)Svetlana Power tube is a ceramic-metal forced-air cooled tetrode intended for use in power amplifiers with distributed amplification and for SSB-signal amplification with output power up to 2.5 kW at frequencies up to 75 MHz.GU-84B(GU84B) as well as for power amplification at frequencies up to 250 MHz with output power up to 2.2 kW in radiotechnical equipment. (GU-84B(Svetlana factory GU84B sertificate) See GU-84B(GU84B)factory information:
GU-84B(GU84B) is developed in 1982 for a navy and submarine transmitters uses. In transmitter "PLAMYA" ("FLAME"-engl.) it is used 10xGU-84B tubes. These GU-84B(GU84B) tubes and Sockets remain are efficient even after impact of underwater nuclear explosion. But we hope that now it not actually,hi. GU-84B(GU84B) tubes is applied also in civil big aircraft transmitters. On emergency mode GU-84B(GU84B) can work without cooling aproximately 20-30 minutes! GU-84B(GU84B)Parameters of limited from sertificate of Svetlana Electron Devices can be double greater! Many solide amateur radio stations use GU-84B(GU84B) Svetlana Power tubes and get power before 4 KW in SSB and CW modes in contests.
"This 2500 watt plate dissipation GU84B tube has been constructed primarily for military communication, this GU84B tube is physically and electrically exceptionally rugged and with additional sophisticated protection circuitry incorporated in the DX-2, it is almost indestructible." http://www.emtron.com.au/amplifiers_dx2sp.php
Intermodulation distortion of the 3rd order -35 dB !(Eimac to -32 db)
All tubes from Eimac and other basic manufacturers are more powerful than 2kW have directly heated cathodes witch heater current 40-70A. It is an old and unreliable design. Offered GU-84B(GU84B) Svetlana tube is more modern, perfect and it is much more reliable. And it have estimated of the commercial PA manufacturers and also have estimated many HAMs. See links:
Also nice 50MHz 3kW PA on GU-84B. MADE IN JAPAN. Click to picture: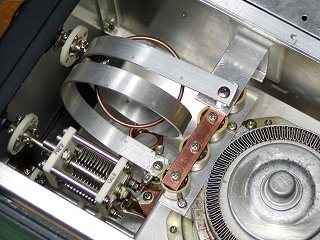 You wanted 8000 watts? Now it is easy with GU-84B(GU84B)!